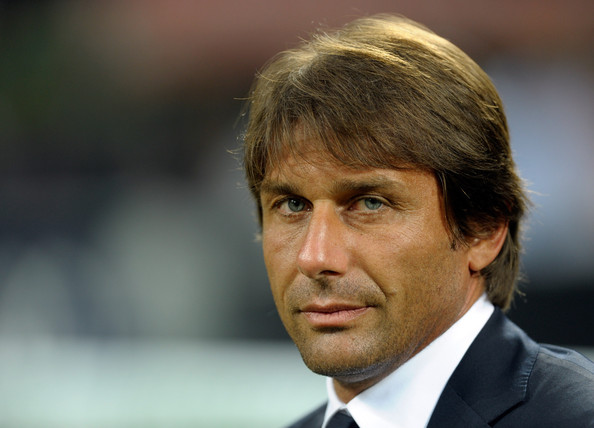 Conte – The beginning of a revolution
Antonio Conte has been creating all the buzz in the English Premier League over the past few months. But who actually is Conte ? He was an Italian international, represented the 'Azzuris' the 1994 FIFA World Cup and 2000 European Championships. He hung up his boots in 2004. He was not a flamboyant player, but had an illustrous career.
Now, he is making more inroads and vibes since taking up the coaching role. He started his managerial career as assistant manager at Arezzo in 2005/06 season, and then he was appointed as manager in the same club. The big break came for him when he made Bari get promoted to Serie A. It was a breakthrough season for Conte. After brief stints at Atlanta and Siena, he made the Juventus manager in July 2011. He has never had to look back since then. In his three year stint at Juventus there hasn't been anything that has eluded Conte from. 3 Serie A titles, 3 times winner of Panchina d'Oro – awarded to the best Serie A manager. He resigned in 2014, and took up the Italy manager spot succeeding Prandelli. He did well with Italy as well, allowing the team to qualify for the Euro 2016 with 7 wins and 3 draws. He showed his prowess yet again leading 'The Azzuris' to the quarterfinals. They were impressive, and it was not star studded but they played well as a team. Conte's man management skills were evident during the tourney, living every match and every moment. He was the 12th man for most of the time, and always looking for an opportuity to attack. It was an average team that Italy had, even then they could reach the quarters. It speaks volumes about Conte and his management skills.
What sorcery Conte did at Chelsea ?
After the Euro Cup exit, he was offered a 3 year job at Chelsea by Roman Abramovich. When Liverpool signed Klopp, City signed Guardiola, United about to sign Mourinho, Chelsea had to do something out of the box – and it was Conte!
Conte didn't have a good start to the Premier League – not being able to cope up with the challenges of the English Premier League (EPL). But that's how Premier League is, it's so fast, pacy, need a lot of patience and to mark it all – lot of pressure from the fans. Conte's transfer policy stood out from the other managers – while others like Guardiola and Mourinho looked to bolster their squads through big signings Conte had just filled his priorities – in the form of Kante and Alonso. He had an under-achieving Hazard and Costa at disposal. Others would have maybe, sold those two considering their under-achievement. Conte had to do something drastic, when Chelsea succumbed to twin losses against the Gunners and Liverpool. Where most of the managers would have changed the players, what Conte was something simple but out of the ordinary. He simply changed the Chelsea formation. Traditionally, they used to play the 4-2-3-1 or the 4-2-4 formation. He changed the setup and made a 3-4-3 formation, something Chelsea hadn't tried recently.The results were fruitful and solved the defensive hitch. After transfiguring the formation, in the eight games Chelsea have just conceded 2 goals. There was a buy which was thought to be a panic buy during the transfer – it was the capture of David Luiz. The fans didn't welcome it, neither the pundits. But under the Conte model, Luiz buy is proving to be a crackerjack one. Chelsea's defense is looking a tough nut to crack. Week after week teams try to overcome Luiz & Co, but to fail miserably.
Conte didn't get anymore attackers in the transfers, that was a proof to how much Conte believed in his present crop of attack. Yes, I'm talking about Costa and Hazard! Every team needs a playmaker, to create the chances, score goals, dribble past defenders – for this many thhings to happen Chelsea badly needed Hazard to come back to his prime. Last year his performance was lacklusture, being asked to trackback a lot and thus creating pressure on the creative attacker. Under the new system, he no more had to think about defending instead they had Kante and Matic doing those duties. Hazard started being creative again, being confident and with an enhanced vigor. He has scored 8 goals so far, and that is a testimony to the kind of improvement he has effectuated. Now, after Hazard Conte would need a man in front of goal, who would put the ball in the back of the net at every crucial junctures. The man was Diego Costa – The Brazilian born Spanish striker. But Costa is not an easy man to handle, not every manager has a good way with him. Costa's unswerving mode of play, made him dangerous and special, although he was very much near to being booked in every game. He was a bomb, which could explode any moment and cause havoc within an eyeflash. But the Costa many knew is changing under the Conte system, he is setting up for the goals and has remained calm although he is just a card away from suspension. The most epic part of Conte's managerial stint at Chelsea has been developing the fringe players. He chose to wait, be patient and believe in Victor Moses and Pedro, and undoubtedly he has bore fruit out of them. No one even gave a chance for Victor Moses, not in any parallel word. Personally I though he would end up in Swansea or Stoke as a loanee yet again, but not and that's why Conte is managing Chelsea and I'm not! Of all the other good things he has instilled in Chelsea has been putting good use of Marcos Alonso. What a player he has been for the London club.
What Conte has instilled in the team is unity – that was a characteristic of all the teams he has managed. With Chelsea he has done the same – not every player can play in every match and unlike many others, Chelsea is a team with quality squad depth. Players like Willian and Fabregas is capable of making the first team, but still has to play second fiddle to fringe players like Moses and Pedro. It is easy for players to feel left out and seek looking for better pastures. But instead they have contributed well. It was evident in the 3-1 win against City as well. Fabregas and Willian played substantial roles, with Fabregas assisting and Willian scoring one. The players realize it's not anymore individualistic but directing their efforts towards the collective good.
When compared to Klopp and Pep, Conte is slightly on the lower side but his better man management skills has helped Chelsea achieve the un-imaginable so far. What Pep lacks and Conte has in plenty is belief in the players. Conte puts a hand around the under-performing players and says, " I give you a second chance to prove your worth". But Pep on the other hand his words could be, " Either you perform or perish". This could be the thought process which lead him to loan out Joe Hart and keep Yaya Toure out of the game for so long.
I could see this year as "Year of Conte". Ofcourse, he has to beat the likes of Klopp, Pochettino, Pep, Wenger and Jose. It's not easy but if he can extend his good run of form, maybe then it's not impossible at all. It's a beautiful story that Conte is writing. He is indeed creating a league of his own !