Every team invests a lot in spotting talent with the growing competition in football these days. With the importance of football increased a lot these days. A football club is not anymore about playing on the pitch, it is also about showing positive figures in the balance sheet. Barcelona, Arsenal and Manchester United have invested a lot in scouting and earned high yields of dividends. It saves them a lot of millions, which can be used for building the stadium, the academy and other end number of activities.Right across the continent, young prodigies have come up and played some inspiring and worth watching football.
In the modern era, the game has undergone changes with newer technologies like the goal line technology.Footballs are also manufactured to facilitate more goals are scored, 20-25 years earlier none could imagine someone scoring 5 goals in 9 minutes(Lewandowski).
Here are five players aged nineteen or under who look set to take the world of football by storm in years to come, if they can keep their heads whilst those around them lose theirs (excluding those playing in the Premier League), the only criteria being that they must be 21 or under.

#5 Julian Brandt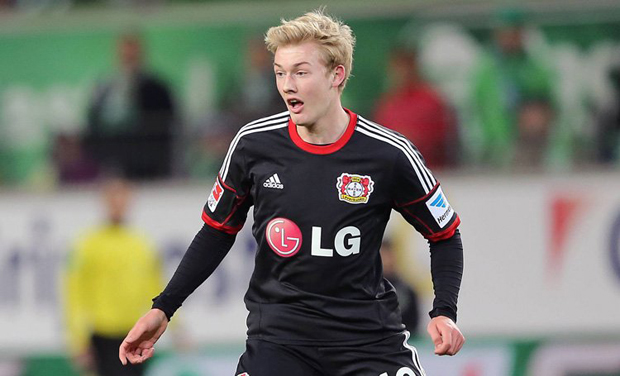 Julian Brandt (born 2 May 1996) is a winger who plays professional football in Germany. His current club is Bayer 04 Leverkusen. Brandt, born in Bremen in Northwestern Germany, played for local sides like SC Borgfeld and FC Oberneuland, before joining Wolfsburg's as an academy player.
He scored 13 goals for Wolfsburg's youth side and helped them win the U-19 Bundesliga. On January2014, Brandt was announced as a Leverkusen player binding him to a contract until 2019. He made his Bundesliga debut when he came off as a substitute in the second half, which ended in a 1-2 defeat. He also made his debut in the Champions League in the first leg tie against Paris Saint Germain. The 19-year-old Germaninternational has all the tools in his armor to be the best in the trade. Brandt has represented his country at youth level from u15s onwards, and he was in the Germany squad for the FIFA U20 World Cup in 2015.During the World Cup, he was able to leave a signature over his other team-mates down and out.
He has a balanced combination of pace, acrobatics and skill, and the fact he's over 6ft tall, makes him special. Breaking into the German senior team will be a tough ask, especially given the abundance of talent Germany currently has across various age groups. But if he transforms himself into someone who has the right attitude with his talent, then he'll be impossible to ignore. But before that he should be a regular for his club, since most national coaches prefer players who has a stable place in the first team for their respective club. A right-footed, versatile forward, Brandt's game is all about making things happen in the final third. He uses his size and speed to own the defenders, but he'll also need to be un-selfish enough to feed through balls and crosses towards the wings and supply to the main striker. Many pundits regard him as the next Cristiano Ronaldo, but we will have to wait and watch as to what far he makes progress.