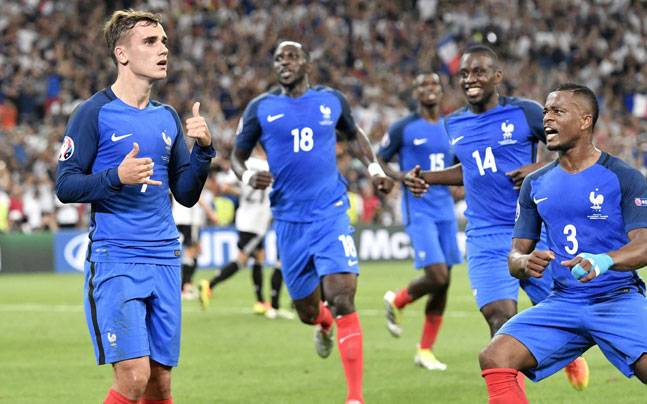 France has advanced into the Euro Cup 2016 Finals with a double from Griezmann that would see them face Portugal in the finals. It was a tough battle on cards when two of the biggest footballing superpowers – France and Germany met each other Germany looked clearly the better team on paper and was poised to play the finals before the match got underway.
The first half was highly pulsating, tensed and intense. Germany owned the pitch with possession and the chances for most of the first half. Then came the big blunder from Bastian Schweinsteiger when he pulled out his hand in the penalty box while defending the corner, which in the first case shouldn't have been a corner. French winger Antoine Griezmann made no mistake whatsoever from the spot and put it within the reach of Manuel Neur. It brought the first half to an agonizing end, and the German players and fans still wondering how France went 1-0 up at Half Time.
The second half got underway with France looking much improved and playing a whole lot better than Germany. They had a lot of possession and kept testing the German brick wall of defence. At the 68th minute, Low brought on Goetze for Can but one would feel he left it a bit too late. France manager Didier Deschamps immediately made the counter move, bringing on Kante for Payet. Just a minute after that, moment of brilliance from Pogba saw a venomous cross into the box which was put into the net by Griezmann. That ended the game out of hands from the reach of Germany, and towards the end you could see the agony of the manager and the players.
France have registered a place in the finals, much to the delight of the french crowd amid humongous home support. Cometh the finals, it will be Europe's top players fighting out for supremacy, specially it would be a Champions League re-match between Cristiano Ronaldo and Antonio Griezmann – A battle worth craving for !